This is my 5th Android phone, after using Samsung Galaxy S (Vibrant), Nexus 4, Nexus 5 and Nexus 5X. I usually post some reviews just after a few days of use on my blog (linked above), but this time it took me a week to write this one.
The reason is pretty simple — there's not really a lot of things to write about this device. Except that: it is almost perfect. So the tl;dr of the post is: I love this phone, and recommend it to every Android user, and potentially an iPhone user who is thinking about switching.
XL or non-XL
The phone costs $650 as the base, non-XL model to begin with, and I upgraded to the 128GB storage model — totally recommended because it fills quickly if you shoot videos in 4K — and all the taxes included it was over $800. XL adds another $120 on top, so that's a big price hike. Unlike iPhone 7 vs 7 Plus, there's no functionalities difference between Pixel and Pixel XL, except that:
XL has a bigger physical display, obviously
XL has more pixels, Full HD vs Quad HD
As a result, XL allows you to put more icons on the home screen
XL has a ~20% bigger battery If you have bigger hands and would like to use the screen estate as much, XL would be a good choice for you. Otherwise, choosing non-XL doesn't tax you or let you make compromises for losing a better camera or anything.
The box
The box came with a lot more tools than you'd ever need. A really powerful charger that is capable of USB-C Power Delivery to quickly charge the phone. USB-A to C OTG adapter so that you can transfer data from your previous Android devices or even from an iPhone. Apparently, importing the data from an iPhone works by emulating a PC storage in Pixel and getting your iPhone data backed up to a PC. I haven't tried this, but that's a really cool technique.
And it comes with USB-C to USB-C cable for charging, and USB-A to USB-C cable for data transfer, or some other uses. The cables look solid. It did not come with a pair of headphones, but who needs it anyway.
The phone
The price matches with the rest of the high end phones like Galaxy S Edge or iPhone 7, and I think it does what you'd expect this price range phones do. It is very snappy with the Snapdragon 821 processor, and I've not noticed any lags that I constantly experienced with the Nexus 5X.
I was a bit skeptical about the battery life of the phone, and the first few days were a bit disappointing, since I was mostly outside and the phone battery died down to 20% around the time I came home. But since then it has become much better, and when I work from the office when it is mostly in Wi-Fi, the battery is about 70% when I come home about 6pm. I'm sure the battery drain of the first few days was the artifact of me tweaking the phone all the time, and initializing lots of applications during the first run etc.
The back of the phone is a little bit slippery, but not as much as iPhone 7, thanks to its non-round shape of the edge. Also the glass surface around the fingerprint censor makes it more grippy than the rest. I chose the color "Quite Black" but interestingly it looks more like Space Gray of the iPhones. Not quite black.
The camera
The camera looks stunning photos. It is very subjective but I'd say it takes even better photos than iPhone 7 at times. Of course iPhone 7 Plus's portrait mode is a killer and Pixel's "Lens blur" is a pretty fake gimmick and there's no contest here, though.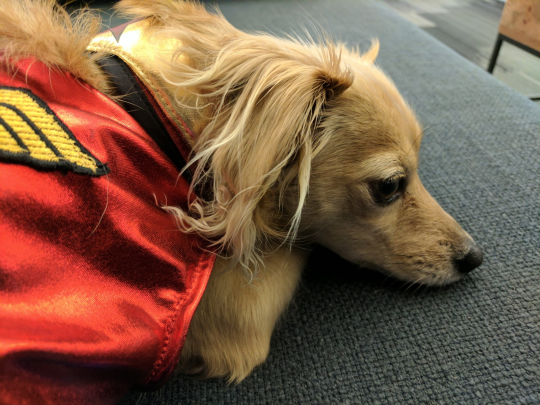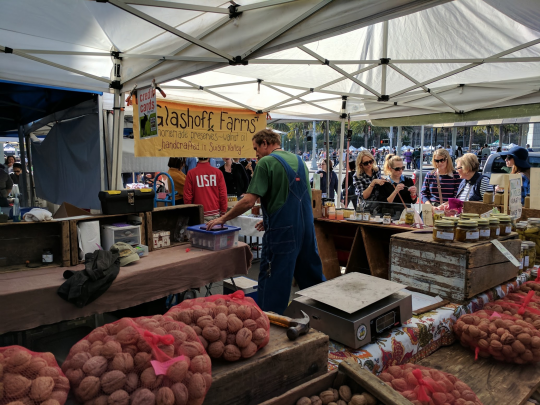 The thing I love about the camera is not just about the photo quality — it's the performance. With Nexus 5X, you could take great photos, if you're really patient, or your target can wait for your camera to turn up. Nexus 5X camera app even goes completely disconnected from the camera and showed dark screen, which cannot be fixed until the reboot. Its HDR+ takes a few seconds that block your next photo shoot opportunities.
None of that crap with the Pixel cameral. It boots up really quickly with the two clicks of the power button, and shooting takes very fast, and there's no lag. Even HDR+ is done automatically in the background, and it does not block your next photo shooting. It's impressive.
Software video stabilization works really great too. Here's a video that I took while holding Pixel in one hand and walking in the farmer's market. I took this video in full HD because the stock setting of the video shooting is 1080p, which I needed to change to 4K after realizing it.
For still photos, I immediately noticed that there were few lens flares when I shoot photos under the sunlight or even a room light directly facing at the camera. Maybe this is the consequence of removing the camera bump?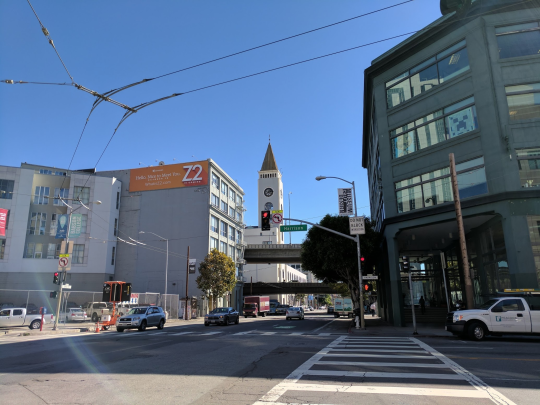 Google apparently recognized the issue and is preparing for a software update to remove the flare, which I'm not sure how well it works.
Summary
Pixel is a great phone that I recommend to everyone, as long as $700+ does not bother you. This is finally an Android/Google phone that is without all the garbages, and has no lag or any easily identifiable compromises, and has a great camera that takes impressive photos.