Kindle Paperwhite 2013 just got delivered to me and I've been using it only about 15 minutes. Here's a quick review and some pics.
15分ぐらいしか使ってないけどとりあえずファーストインプレッション。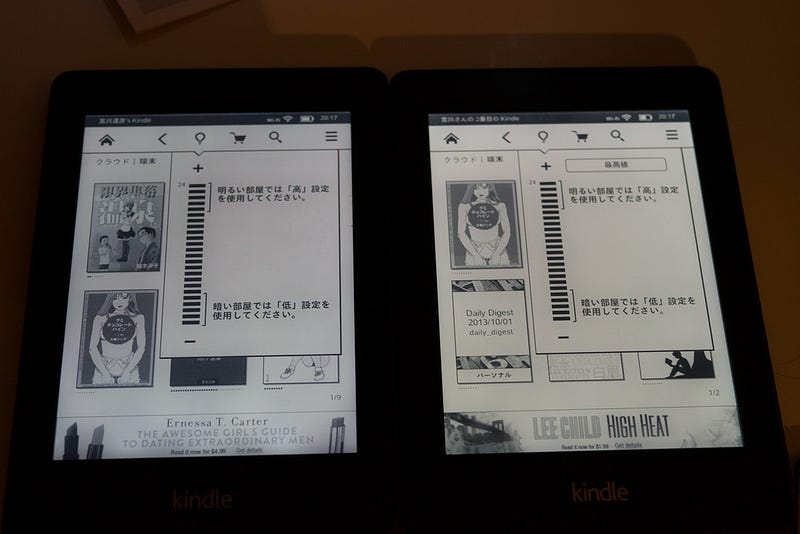 (Paperwhite 2012 left, 2013 right)
2013 has more white closer to "paper" white. 2012 is more like blue/gray white. Also the contrast is a little higher and easier to read, especially when the light turned off.
白の色がちょっと変わって、紙の色に近づいた気がする。"Paperwhite" だしね。2012 年モデルは、青っぽいというか、グレーっぽいというか。バックライトを消した時のコントラストもちょっと強くなってる。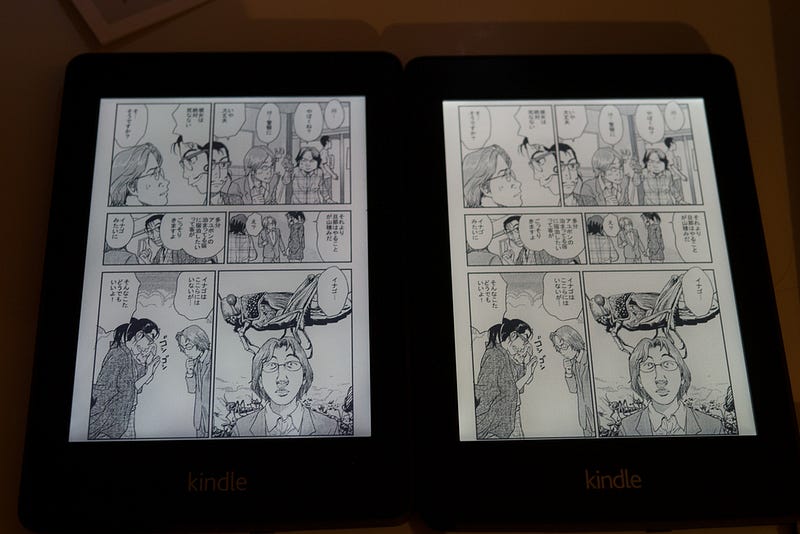 The backlight blurriness/shadows around the bezel is gone. This was one of the annoyance many people had with Paperwhite 2012, so it's great that they got rid of this.
ライトを付けた時に出る、ベゼル(画面下部にある段差)付近の影がなくなった。2012年モデルで気になってたのがここなので、なくなってよかった。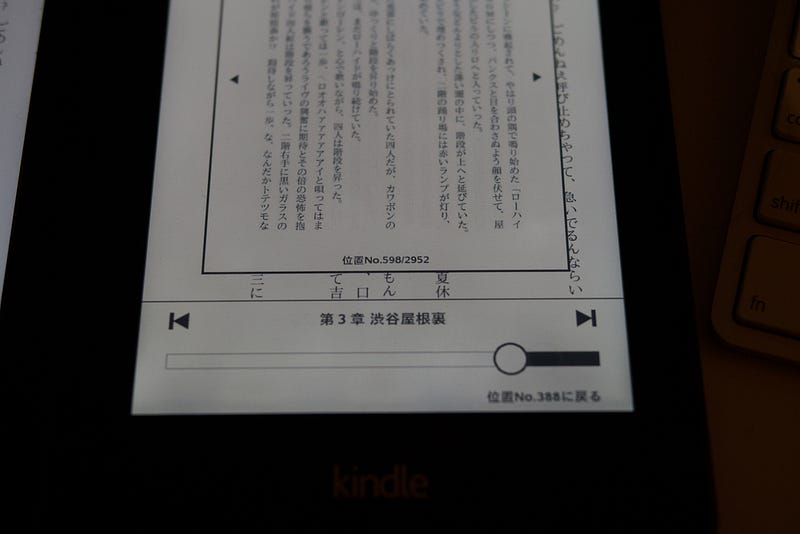 There's new draggable page navigation when moving to other chapters, with real-time preview in the embedded window. It's great when you want to do fast page-turns with Manga.
ページナビゲーション用にドラッグできるリアルタイムプレビューができるようになった。マンガとかを早くページめくりするときによさそう。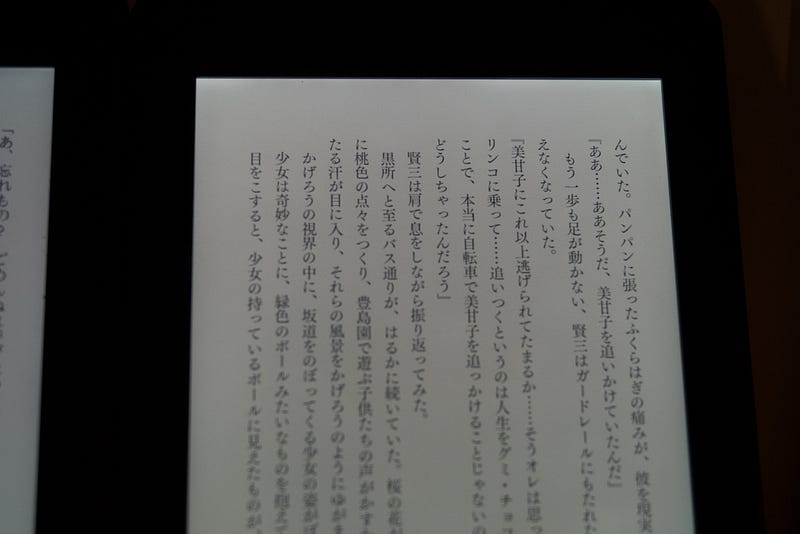 There's a new Japanese font called 筑紫明朝, it's a variant of Mincho, and looks solid when you read literature books.
筑紫明朝なる新フォントが日本語に追加されていた。だいぶ渋いフォントで、文学を読むにはよいかも。英語の方はフォント追加なし。
The biggest (but also slightest) difference between 2012/2013 is the increased performance. It's only noticeable when you directly compare the performance with the 2012 model, but it's obvious when you read Manga. Here's a quick comparison video, with 2012 on the left and 2013 on the right.
2012年モデルとの一番大きな違いは、パフォーマンス。ただ、左右に並べて比べてみないと気づかない気もする。マンガのページめくりでは、割りと差がでるかもしれない。ビデオにて確認を。
and here's another one, with page turns with Japanese novels.
Summary
It's a very nice, but subtle, update from 2012. If you're happy with the 2012 model performance, there's probably little reason you must upgrade to this one. However if you spend a lot of time reading books and especially mangas on Kindle paperwhite, this is a great update — especially Amazon.co.jp model where you have double the storage (4GB) with $20 worth coupon included.
2012年モデルで満足しているなら、買い換えなきゃいけないってこともなさそう。ただ毎日それなりの時間を使ってるなら、このちょっとの差も積み重なっていく可能性はある。Amazon.co.jp 版 はストレージも倍、クーポンつきで実質割安になってるので、この機会に買ってもいいのでは。