Received this on this Tuesday, and been using it for 2 days on T-Mobile LTE.
I love this phone. It is so much better than the previous phone, Nexus 4.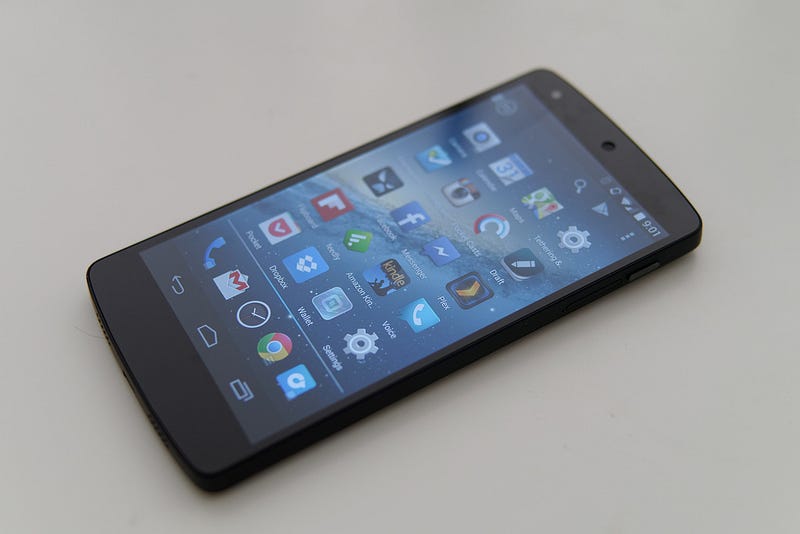 Screen
The screen is gorgeous and crisp, and never fails to enlighten me when I turn on the screen. This is the first experience I've ever had since the retina iPad 3.
The screen is sometimes too bright, when used in the dark. I heard it is a bug in the auto brightness detector, and could be fixed in the OS update later.
Camera
Camera quality has been criticized on some reviews, but for me it takes decent, sometimes great, photos. Look at the result of Nexus 5 vs iPhone 5s photo polls. I don't consider the quality as good as 5s, but the fact is that it could take as good photos.
The camera app is wacky and slow, but hopefully it could be improved in the future software updates.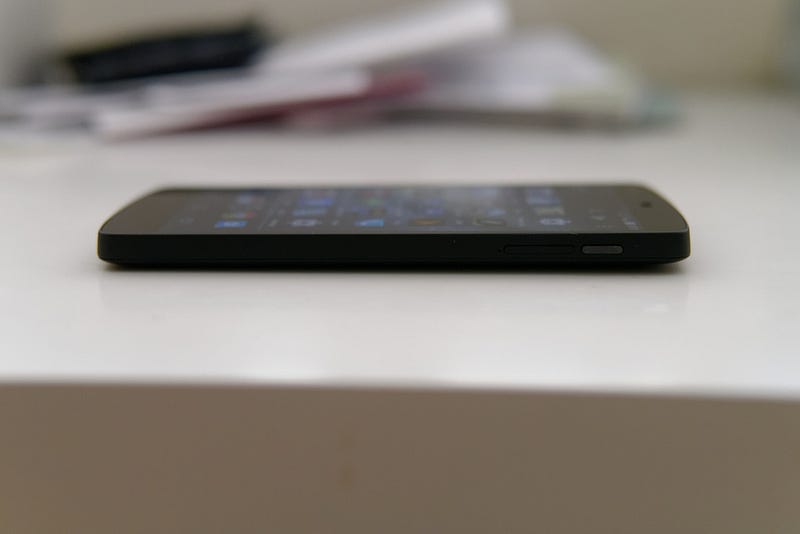 Hardware
The hardware is pretty big, but not that big if you've already used 4+ inch devices such as Nexus 4. It is a little longer than Nexus 4, but it's thinner and actually lighter. The back is made of matte, not glass like Nexus 4, which makes it easy to not slip on my hand, and will not crack even when you drop it.
The matte back also fixes the problem with Qi charging with RAVPower wireless battery, when Nexus 4's glass back keeps slipping off from the battery. Nexus 5 does not.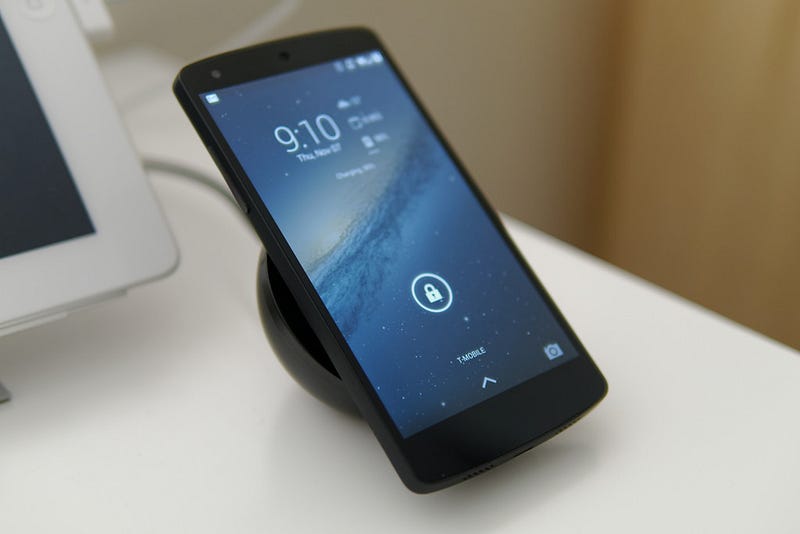 Speaking of wireless charging, Nexus 5 makes the wireless charging seemingly much more stable. The positioning of charging point is a little above what was on Nexus 4. Nexus 5 has almost in the middle of the body, whereas Nexus 4 had in in the bottom. This requires some getting used to, but overall it makes it more steady.
LTE support
It supports variety of LTE bands and runs T-Mobile LTE with no problems.

Here's the comparison between T-Mobile HSPA+ and LTE in my home, SOMA area in San Francisco. Downstream is not much different at the speed test, but in reality, LTE download is much more steady and fast. Also, the upstream makes a huge difference.
Yesterday I tried to download a couple of podcast episodes with T-Mobile LTE — it downloaded 50MB file in 20 seconds. Guess 200MB free data for tablets is a real deal, that can be consumed in one minute :)
There's a report that Nexus 5 (even with D821, International model) doesn't support NTT DoCoMo's 3G/WCDMA SIM card. You should get the SIM that supports their LTE network. I do have b-mobile (MVNO of docomo) that only runs on 3G, and guess it's time to upgrade to their LTE version. But i could probably live with T-Mobile's free EDGE global roaming when everything fails.
Battery Life
I've been only using it for 2 days and it's too early to judge on battery life, but so far it isn't that impressive, and mostly the same level as Nexus 4. With the heavy use it could run out before 8 hours of use, but with a regular use, turning off background battery heavy apps like Moves, and then always on WiFi, could lead to a whole day use.
I'll update after a week of use.
Android 4.4
The google experience launcher (GEL as they call it in the Android devsphere) looks nice especially the translucent toolbar. Although the icon size is a little too big to my taste, and i switched to Action Launcher Pro which 4.4 support is still in the works. I also installed DynamicNotifications and Dashclock for lock screen immediately like I did with Nexus 4, which feels like de-nexusing my phone :)
Anyway 4.4 update is welcoming in most places — the toaster notification looks so better.
Japanese Text Rendering
It is still puzzling when the app displays Japanese characters in Japanese fonts (or CJK unified fonts).
Prior to 4.4, it depended on the system settings — if you set your locale to Japanese, most texts are shown in Japanese fonts. Otherwise it will be in CJK font. With 4.4, it seems like the renderer tries to figure out whether the text is in Japanese or Chinese. When I look at mostly Japanese email on Gmail or articles on Pocket, it will render in Japanese fonts, but not all. It is still puzzling, and i hope it will get more robust.
Random things
Typing passwords twice for the first time because i enable 2-factor authentication is annoying. Why can i just do the 2FA for the first time.
Now you could transfer authenticator code from one device to another without disabling it. Good update.
Google Voice app feels really outdated. Needs the whole refresh.
Lockscreen widget is disabled by default. You have to dive into settings to enable it
The keyboard responds so much better than Nexus 4. I'm assuming this is an improvement in Android 4.4, combined with Nexus 5 specific touchscreen optimization.
New file chooser looks interesting. I used that to upload my photo from Dropbox to my Square account avatar. the UI looked a bit odd, but the whole experience was like magic. Something iOS needs to support with its puzzling iCloud document stuff.
Android really needs Do-not-Disturb like iOS, i.e. turning off vibration and LED flash during the night. Yes, I know I can do it with Tasker etc., but nope, it should be done in the system.

Summary
Overall i love this phone. It's the best phone available for $349 without doubt on the market, and despite some initial issues, Android 4.4 looks like a big leap from 4.3.