If you follow me on Twitter, you have been seeing a lot of my anger tweets against Google on how incapable they are on fixing my broken Pixel phone. If it were with a manufacturer with a better customer support, i.e. Apple, it would have been a walk to the nearest Apple Store and get a replacement phone immediately.
Here's what's been happening so far:
2016/10/04 Ordered a Google Pixel
2016/10/21 Received the device
2017/02/20? Installed Android N public beta program
2017/02/23 Noticed that the device freezes, crashes or reboots randomly but it was not so frequent as to bother me
2017/04/28 Factory reset the phone, thinking the public beta is the cause for freezes
2017/05/02 Reset did not fix the freeze issue
2017/05/02 Contacted Google from the Pixel web support form. I was told that Google support would contact me in 48 hours.
2017/05/04 They did not contact me in 48 hours. I opened another support contact, this time via Pixel's on-screen help menu. Got an immediate support and a link to order a replacement.
2017/05/05 The replacement phone is shipped with FedEx 2-day.
2017/05/08 I was working from home waiting for the delivery, but FedEx posted a "Delivery Exception". Given that I needed to go on a trip on the next day, I called FedEx so that they can hold the phone at the shipping center so I can pick up. It was denied because the shipper (Google) doesn't allow holding the item at the shipping center. Contacted Google to allow it, but they could not.
2017/05/09 Because I do not want to leave the phone package while I'm away, I put a note for FedEx to return the item, also to Google to cancel the shipment.
2017/05/11 The item was successfully sent back to the Google warehouse.
2017/05/13 I sent an email to Google customer support to send me a new link to order a replacement phone, this time to my office so that I can pick up when I'm back.
2017/05/14 Google sent me a new link. The new link does not work, saying "Your replacement has already been ordered." Contacted Google to fix the issue.
2017/05/15 Google sent me back "Try it with an incognito window." It does not work either, with the same error.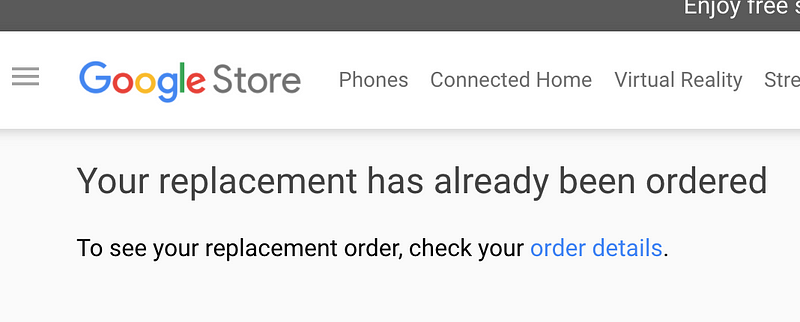 So I am about 2 weeks since the first contact with Google to get a replacement for this unstable phone, and still haven't got one, let alone order a new replacement.
Obviously, a phone that freezes randomly is a major inconvenience. I failed to transfer the trains because Google Maps freeze, or failed to take a good picture opportunity because the camera app crashes.
Google Pixel is a great phone and I loved it, but once it gets broken, their customer support experience is a hell.
**Update: **They finally figured out how to cancel the first RMA and have issued a new order link for me, and I received the new replacement phone on May 18. The new phone works great and there's no freeze so far.