I made an order for Nexus 4 on Nov 13th, 8:45am — pretty much like 3 minutes after the sale went live. Google has been quiet and pretended as if my order didn't exist since then, but Monday midnight the item was shipped and Tuesday 9am the UPS package arrived by my door. I was charged $13.9 (by default) for this super-fast shipping.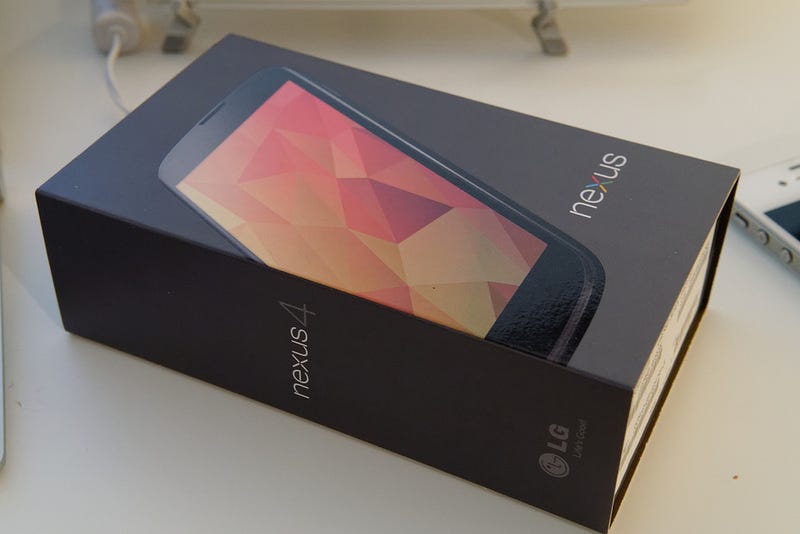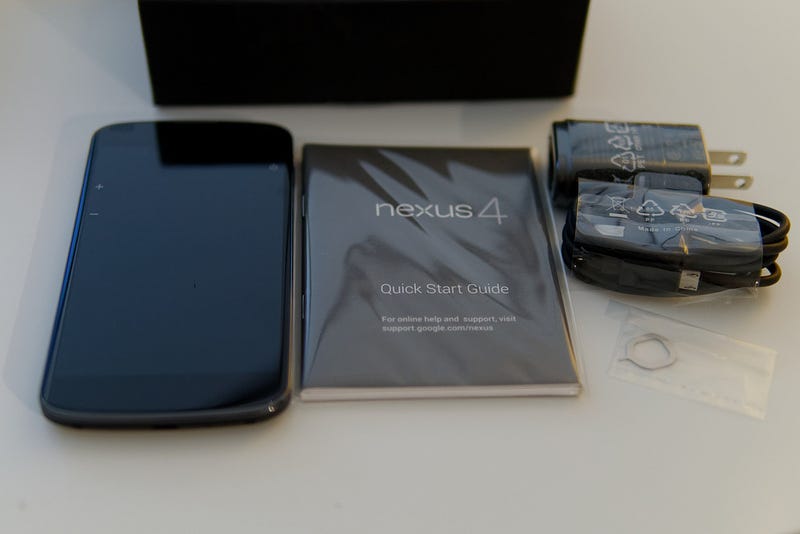 After 10 hours of playing with the device, here's my quick review.
Of course my review is biased, but take it into your account that my previous experience with Android was with ICS 4.0 on T-Mobile Vibrant (Samsung Galaxy S), and my daily use of other mobile is iPhone 4S.
Hardware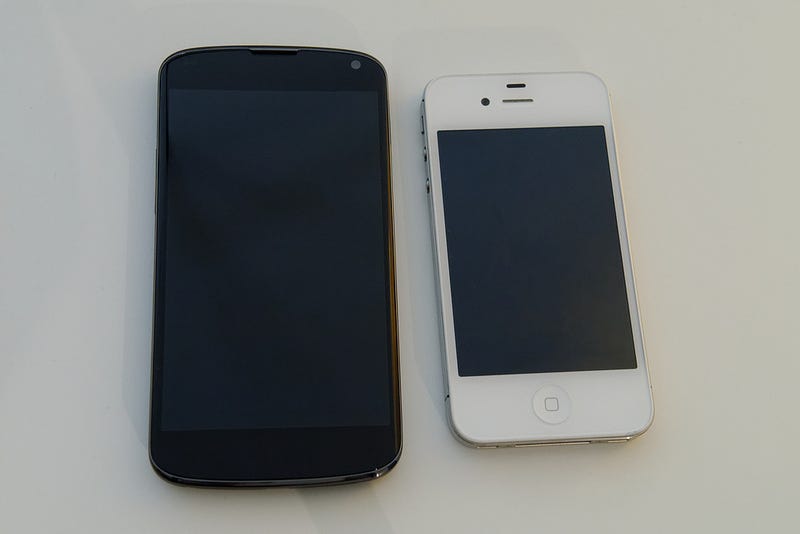 Good
The build looks very well made. Not like some plasticy with Galaxy S
The weight (129g, almost the same as iPhone 4S) feels "right". Not too heavy, not too light.
The screen has 300-something pixels per inch, almost the same with Retina Display, and it looks gorgeous with the movies and small texts look crisp (with Kindle, Feedly and Flipboard)
WiFi works with 802.11n 5GHz.
Battery life looks solid, although I used it 10 hours extensively, after the initial 50% when the phone was delivered.
Wireless charging sounds great, although i don't have a charging mat/orb that works with Qi yet. Does DT-900 for Nokia Lumia work with it? Googling suggests yes and no.
HSPA+ peta-band. I know the lack of LTE pisses you off, but realistically HSPA+ peta band is good for 2012.

Bad

Camera looks okay, but not that impressive as compared to iPhone 4S.
It feels a little too big for my small hand. I have to get accustomed to be able to unlock the phone in one hand, which is impossible at this moment.
micro SIM has an opener tray like an iPhone, but the hole is so tiny that normal paperclips won't work. You need its own opener.
The unlock key is in the right side, not top. It makes it difficult to unlock the phone without accidentally touching the volume up/down key with the palm, which causes to unmute the phone.
When the display is off (locked), the device is totally symmetric, and it is difficult to figure out which side is up and down.
The lack of LTE. Oh well.

Software (mostly Android 4.2 Jelly Bean)
Good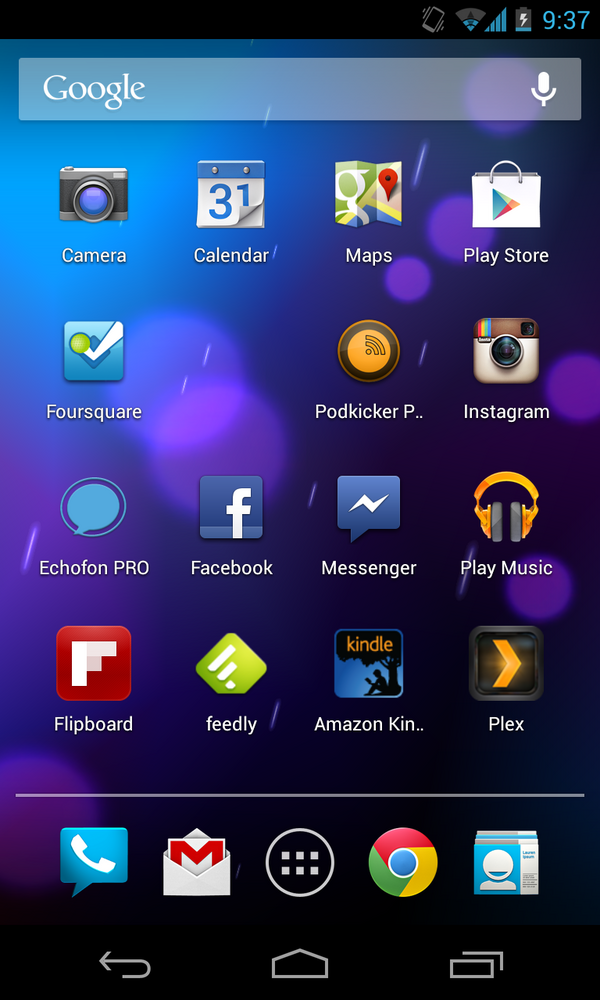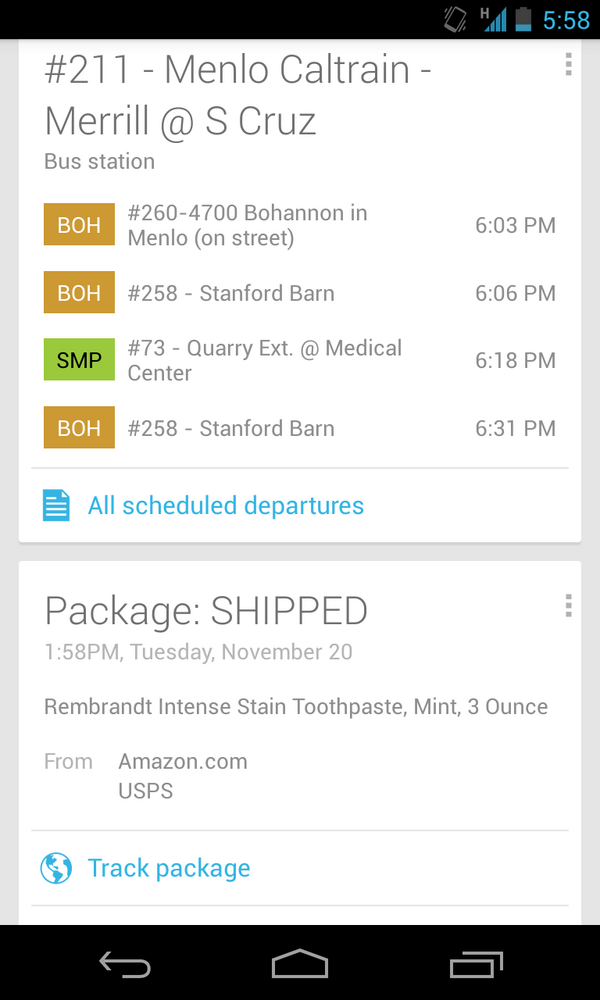 4.2 swype-like keyboard works great
OS is fast and snappy. Haven't felt a big lag yet
The usual Google goodness. Sign in with my Google account and Music, Maps, Gmail, Calendar, Voice, everything's just there. Makes Apple a big shame.
Google Now. It's a little over the border between creepy and useful, but it is useful that it tells me my order was shipped from Amazon and updates me with the caltrain schedule from San Mateo station to my home, with the weather information.
Most (but not all) apps I need from iOS are there with Android. Instagram, Facebook, Flipboard, Feedly, Kindle, Plex, Pandora, Chrome.

Bad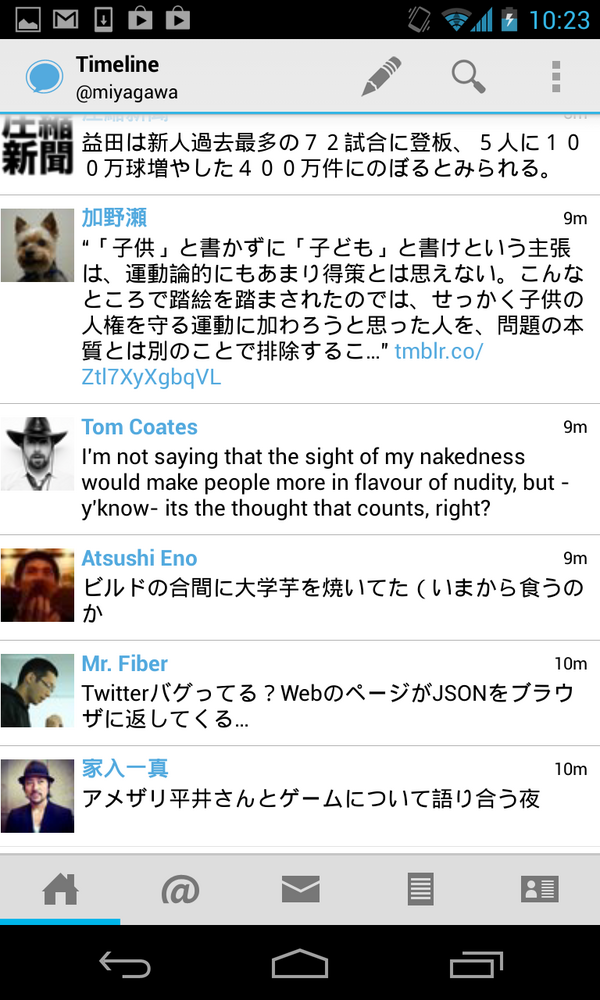 Missing apps from iOS: Podcast, Asana, TaskPaper, zoom.us, Simple, VNC Viewer,
Kanji fonts render using Chinese fonts, when system language is set to non-Japanese, in my case English. This has been an issue since the beginning of Android, and am amazed it hasn't been fixed. The only solution is to set the system language to Japanese, which would work for most of Japanese people I imagine, but I'd like to avoid that.
Face unlock/PIN fallback works okay, but it frustrates me that the option is mutually exclusive to "Slide to unlock". I would let it slide to unlock for 10 minutes, and then require face/PIN unlock. That's not possible.
Lockscreen widget is kind of meh
Looks like there's an OS bug where Gmail notification always causes Vibration, even when Vibrate is set to "Never". Force disabling the "Sound" fixed it.
No AirPlay. I have to keep an iOS device (iPhone 4 for now) to beam video from youtube/Plex to the living room Apple TV.
App crashes. May not be Google's fault. But I already saw 4–5 app crashes for just today. App quality isn't as good as iOS. After all, Android is Android — the good parts have been even better, and the bad parts stay the same. I'm a fan of more open system like Android than walled garden like iOS, so I'll keep using this, but I'm sure i'll go back to iOS when iPhone 5S and iPad mini retina is out in 2013.