Rode Podcaster quick review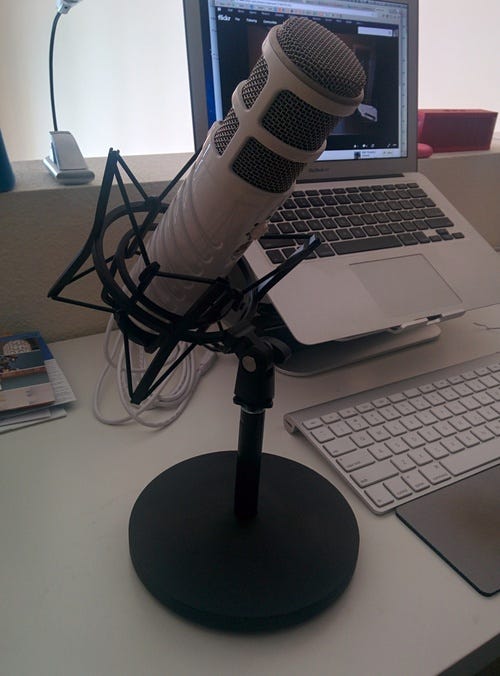 As suggested by many Podcasters, Rode Podcaster is probably the most popular "entry-level" USB microphone.
I bought it thinking it would be an upgrade from the current setup with Audio Technica ATR-2100.
The latest episode 30 of rebuild.fm was recorded yesterday with this, and here's my quick thought.
Setup
The gain is pretty low on the Mac, the same as ATR-2100. I had to bump it up to 90% to get a decent level. As explained in the manual, you have to get really close to the mic (about 2 to 3 inches) and speak directly to the mic.
Explosives will be a problem if you use them a lot. Fortunately for me, when I speak Japanese, we don't usually use much p's. Some suggests they don't need pop filters anyway.
Audio
Honestly I couldn't tell much difference between Rode Podcaster and ATR-2100 in terms of audio. I mean, there is a difference, like Rode is more dry, and ATR is a bit more warm, but they both sound great. I guess it's a very subjective matter after all.
However it is clear that Rode Podcaster records much less noise (as in hiss and electric noise, not the ambient noise) as compared to ATR-2100 using USB. Reviews suggest that this could be much improved if you use XLR interface with ATR.
Rode Podcaster is a dynamic mic, and unlike condenser it is less sensitive to the ambient noise. I was running an air purifier during the recording (forgot to turn it off) and i couldn't hear it at all. However there are some cars running on the street across my apartment, and i could hear them, which i usually don't notice when recorded with ATR-2100.
I was using the shockmount (PSM-1) on the Samson desktop stand, so when i use the keyboard and trackpad, the vibration didn't get caught at all, which is really nice. (and that was exactly what a shockmount is for).
Monitoring
Rode Podcaster has a no-latency monitoring with the 3.5mm audio jack. This works a little different from ATR-2100.
With Rode, when used as an output device, the volume is fixed on the Mac side. You have to use each software (i.e. Skype, iTunes) volume to control the relative loudness, and then use the mic's monitor knob to get it mixed with your own voice.
There's no mute or input gain knob on the mic (Blue Yeti does).
With ATR-2100, the monitor knob on the microphone actually doesn't do anything other than changing the OS X system volume. The input monitoring is off by default and I have to go into Audio MIDI setup to make a pass-thru. Even with that, the monitored audio is very low — it is certainly better than nothing, but not as useful to monitor my own voice.
Conclusion
Good audio, a bit dry voice, but clear and noise-free.
A little sensitive to ambient noise for dynamic, if not much as condensers
Not sure if this is worth spending extra $200 as opposed to ATR-2100 which is available for $45.
Little more useful monitoring than AT, if not perfect.
Shockmount and desk stand (or boom) is a good investment if you don't wanna hurt your back. So now i have to figure out if i want to keep Podcaster, or return and get a USB/XLR interface for ATR.