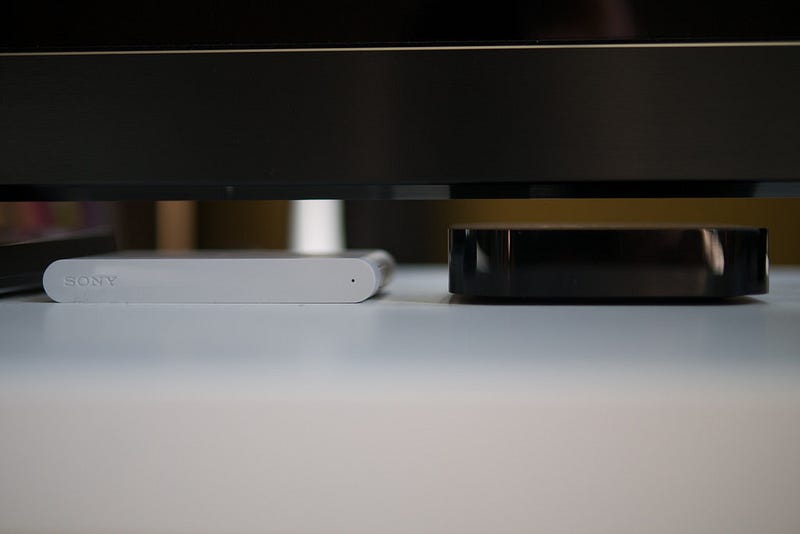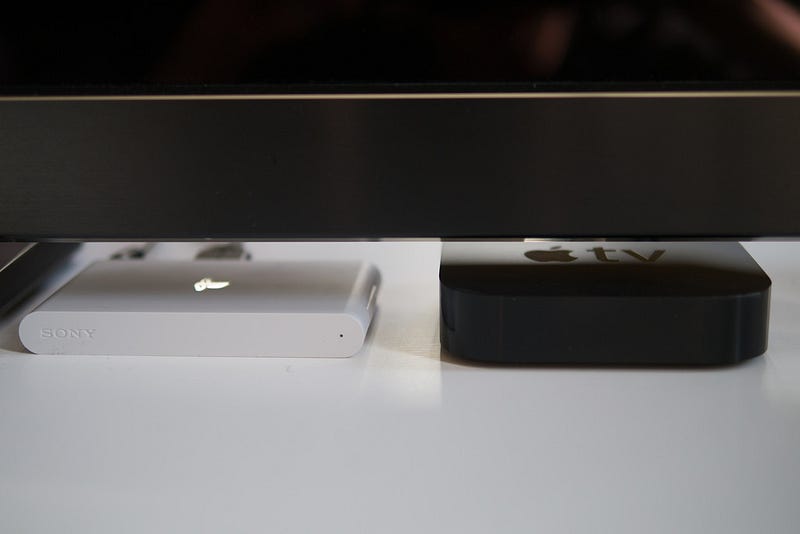 (PS Vita TV left, Apple TV 3rd gen right)
At the end of my trip to Japan, I bought a PS Vita TV for 9500 yen, with 32GB memory card for 4500 yen, after 1000 yen discount applied. The shop in Shimbashi kindly offered 3 month free subscription for PlayStation Plus as well, which I will talk about later.
This is a Japanese model, which is so far the only available model as I know, since the US model ETA is still up in the air.
It's very small, even shorter than an iPhone 5s
Setup is easy, just connect via HDMI and put your Dual Shock controller with USB to pair
It doesn't come with a controller, but there's a bundle for it. I got mine from @drikin (thanks!)
The video output is 720p/1080i. Games with 720p doesn't look so bad, but the menu UI is arguably ugly and you can see pixels when you put on a giant TV monitor.
So far I don't see a region lock. Signing in with my JP PSN account seems to work with no problems. As with iTunes store, you probably need a credit card with Japanese billing address if you want to buy games from JP store.
This is basically a PS Vita with HDMI out and wireless controller. Except some games that require touchscreen or motion sensor, most of Vita games as well as PSP and archive games can be played on TV.
The Japanese PS Plus subscription gives loads of free play games for Vita, PSP and archives. I'm currently playing Stein's Gate, Yuusha no kuse ni namaikida and LIMBO. With 500 yen ($5) per month, I love this Netflix model of gaming. So far I'm happy with the purchase. My last game console was PS2, and I'm not a hardcore gamer with the current titles anymore. But I still want to play old titles time by time — This device allows me to play dozens of free games with monthly subscription, buy classic titles for $6–10 or even current Vita titles for slightly less than the package equivalent, download them onto the storage to play on TV.
When Nintendo announced something called "Wii mini", i was hoping for something similar i.e. a console that requires internet and lets you play only Virtual Console and Wii Arcade titles. The actual product was the opposite — it's a standard Wii without an internet support.
I'm skeptical whether this gadget sells well though, when hardcore gamers will buy PS4 soon and light gamers like me mostly play games on iOS or Android phones and tablets. But for me, for now, it's a perfect console to put alongside my Apple TV and Chromecast.