JAMBOX
I've been a long time user of the original JAMBOX. It's portable, and is loud-but-not-too-loud to put on my desk on the loft to listen to the music while I work from home.
There are many shortcomings with JAMBOX though: one is that it always wakes up with some weird startup sound, which apparently Jawbone fixed with a later software update. The other thing is that it uses Bluetooth pairing for music. I sometimes want to play music from my OS X iTunes, from iOS Soundcloud app, or from Android PocketCasts app. I need to go all the hoops of disconnecting and connecting.
Sony SRS
Sony has released the updated lineup of its SRS speakers. I got aware of these series when I visited my friend Fumiaki's house in NYC, where he has the previous generation model SRS-X7 and he seems to like it so much.
Like everything with Sony, there are dozens of different models with meaningless numbers but I think the real contenders are: SRS-X33, X77 and X88.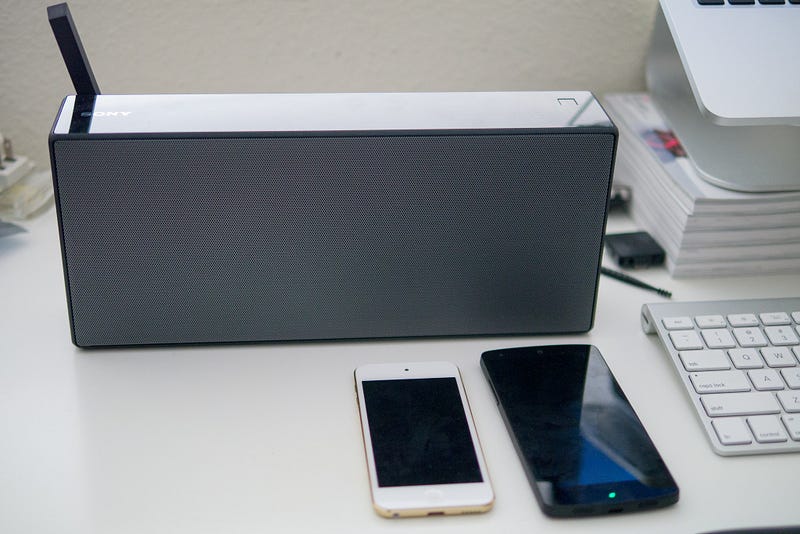 X33, X77 and X88
Simply put, the difference is like this:
X33 is a Bluetooth-only model music like JAMBOX. You can charge it with the standard micro USB cable.
X77 is a hybrid Bluetooth, AirPlay and Google Cast speaker. It is also portable (more on that later) but requires a dedicated AC cord to charge.
X88 is the high-end and supports high-res audio, with BT, AirPlay and Google Cast. Not portable. SONY has abandoned the support for apt-X codec for its Bluetooth and opted in for their supposedly proprietary LDAC codec. If you have their walkman or Xperia series smartphones, there's a chance that LDAC is supported.
Anyway, to solve my issue with the Bluetooth pairing process, I decided to go with X77. I don't have a high-res music source to rock X88.
X77 review
Setup with X77 is almost painless. Just plug it to the power source, and run their SongPal app on either Android or iOS, to setup the wifi connection.
Once it's done, you can play music from any application and OS that supports AirPlay or Google Cast. You can of course use Bluetooth for this, but like I said above, Bluetooth pairing is a painful process so I would avoid doing so unless it's for an outdoor use.
The speaker is a bit bigger than what I expected. It is a good size to put on my bookshelf next to the desk though. Even with much more portable JAMBOX, there's only a couple of times I used it apart from my desk, so this isn't much of a problem.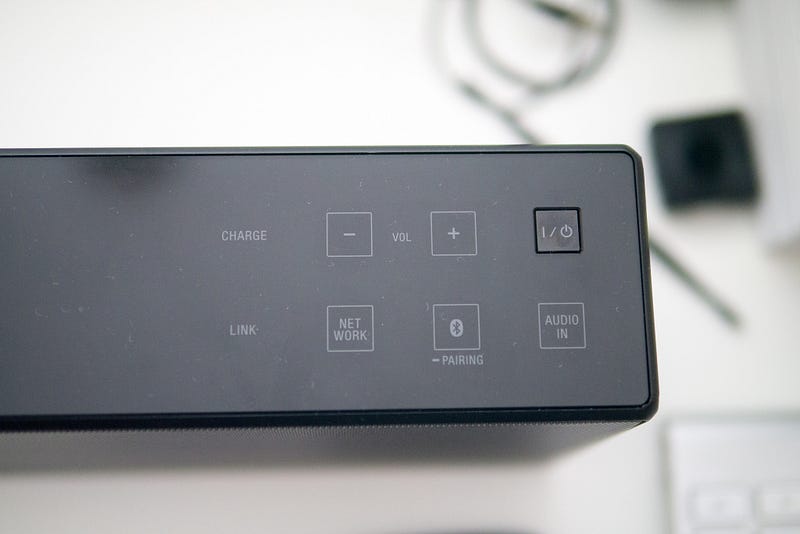 It has a rechargeable battery inside, and apparently it runs 3 hours with Wi-Fi enabled, and 10 hours with Bluetooth. I haven't actually tested it yet, and won't probably use it without power cord for many times.
The sound is great. The default EQ setup is a bit too high on the bass, but you can change it anyway you want. Playing music from Macbook iTunes is just selecting a speaker away, and it's the same with iOS and Android apps.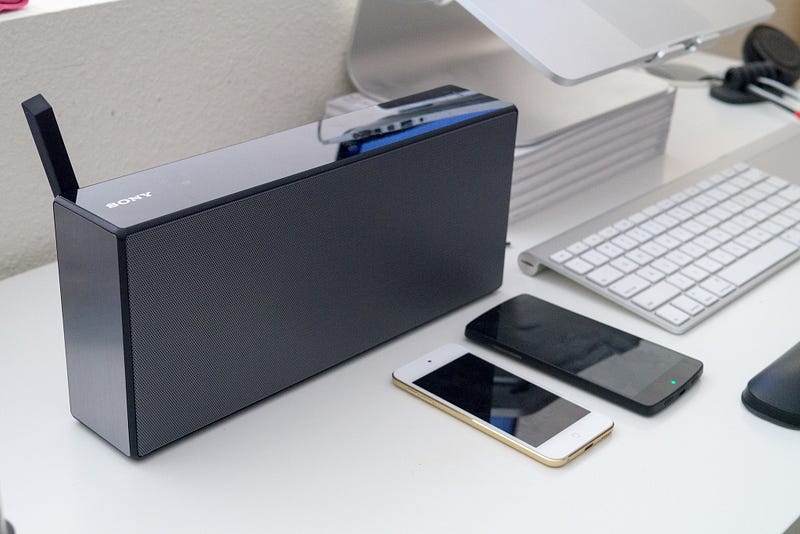 If you frequently switch the music source devices, be sure to reset the speaker to the device itself, before reconnecting it, since there seems to be a cache somewhere and you'll get a sad "can't connect to the speaker" dialog. It's not much of a big deal, and much easier than re-pairing on Bluetooth.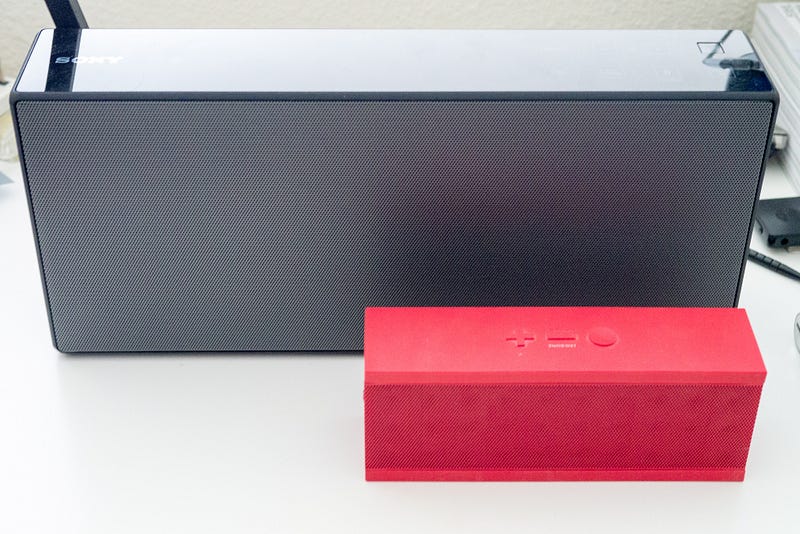 AirPlay vs Google Cast
AirPlay is almost built-in on both OS X and iOS, and its support is universal. Even with non-supporting apps, you can install the versatile AirFoil app to play remote on this speaker. It works great with Chrome websites like SoundCloud.

Google Cast, though, is a hit-and-miss. There's apparently a different media support for video and audio in Google Cast, and by default, the Chrome extension only shows the device that both supports audio and video (i.e. Chromecast).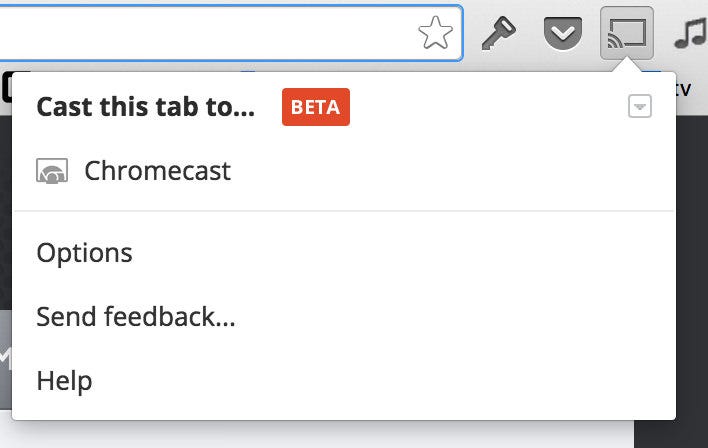 Only when you go to a specific site or player that explicitly supports audio media (e.g. Pocket Casts web app), you'll see the speaker in the Cast tab.
Shortcomings
I have very little to complain about this device. The only problem I have is that the power cord that comes with it is very short, and plugging it to the power extension under my desk was a little messy. Not a big deal and easy to fix with a power extension cord.
Summary
Overall it's a great buy. It is available on Amazon.com for $260 and Amazon.co.jp for 31,480 JPY.